THE PARTHENON OF ATHENS, GREECE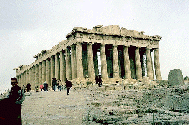 Built by Pericles, this was the largest marble building ever constructed when it was built.
THE COLOSSEUM OF ROME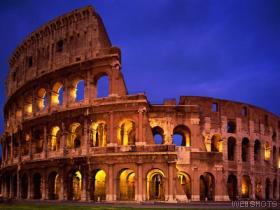 While the Colosseum seated about 50,000, their Circus Maximus stadium seated about 250,000 people!
Click here for homework help in MOST subject areas.
A class web site can be a creative way of getting students excited about a subject, with enrichment activities, and providing them with valuable online resources. Because a class site should be engaging, I'll present information that makes the subject interesting and fun. Of course, I'll want to include plenty of links so students can explore a wealth of ideas on the web.

Here are examples:

Discoveryschool.com offers homework help and many topics to explore. You can also create puzzles and word games to help with studying.
Go to the "Tips and Hints" page of this site and click on the blue shield to play National Geograhic's GEOBEE GAME. It makes learning geography fun.
THE SHORE ANCIENT HINDU TEMPLE
The Hindu religion is polytheistic. Click on the photo to learn more about India.
You have got to see this site to believe all it offers young people and parents. Click here to see Ivy's Search Engine Resources For Kids. It includes "Homework Planet", a free version of Encyclopedia Britannica, "Awesome Library, "The Internet Public Library Youth Division", links to kid safe search engines,and a multitude of other resources and places that make learning fun.
Click here to visit Discovery Channel's interactive site "Walking with Prehistoric Beasts" for pictures, games, and a vast array of information.
Click here to wander through a dark cave and view the cave drawings of prehistoric man.
Click here for a 'vitual' tour of the Renaissance for kids. Discover all kinds of interesting things about this fascinating period in history.
CLICK HERE TO GO ON YOUR OWN EXPEDITION IN SEARCH OF A LOST CITY IN ARABIA. PRESENTED BY PBS TELEVISION'S NOVA PROGRAM.
Abraham, the founder of Judaism, with his son.
Click on the picture to visit "Civilization and the Jews".
CLICK HERE TO LEARN ABOUT DAILY LIFE IN THE MIDDLE AGES, THEIR SCHOOLS, CLOTHING, MEALS, CUSTOMS, AND MUCH MORE....
Click here to visit Kids' Connection with Ancient Egypt. Have fun learning about Egypt....numerous games, projects, links, and more.
Click here for a wide variety of interesting things about CASTLES! Examine their construction, take tours, project ideas, games, etc.
CLICK HERE TO VISIT "THE LIVING AFRICA". SEE PHOTOS, TAKE A SAFARI, GAMES, QUIZES, POST CARDS, & MORE. LEARN ALL ABOUT THE PEOPLE, LAND, AND ANIMALS OF AFRICA ON THIS LINK.
Click here to visit National Geographic's Kids Magazine. It offers games, homework help, "Map Mania" for finding places, and articles about our world. Enter essay contests with prizes like trips to Washington, D.C.
ANSWER THE EXTRA CREDIT QUESTIONS FOUND IN THE RIGHT COLUMN OF THIS PAGE. CREATE POWER POINT PRESENTATIONS ON APPROVED TOPICS FOR BONUS POINTS. YOUR RESEARCH MATERIAL IS EASY TO FIND. JUST CLICK ON THE PARAGRAPH "HISTORY FOR KIDS" (in the right hand column further down) OR ONE OF THE OTHER LINKS.
THE TAJMAHAL OF INDIA

Islamic architectural influence can be seen in this world famous landmark.
STUDENTS MUST HAVE THEIR AGENDAS WITH THEM EVERY DAY AT SCHOOL.
STUDENTS SHOULD ALL HAVE A THREE RING BINDER FOR SOCIAL STUDIES HANDOUTS (WORKPAGES, PUZZLES, AND STUDY GUIDES).
CHOOSE FROM A SERIES OF ON-LINE GEOGRAPHY GAMES (WITH SOUND). HAVE FUN LEARNING GEOGRAPHY ON THIS STUDENT CREATED SITE. JUST CLICK HERE.....
EGYPTIAN PHARAOH DEATH MASK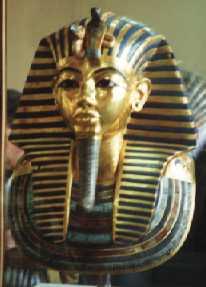 Click on this photo to visit a fascinating site on Ancient Egypt.
Castles were a home for the lord of the manor.
Serfs (peasants) would seek safety within the castle's walls in time of danger.
The Islamic Mosque "Dome of the Rock" in Jerusalem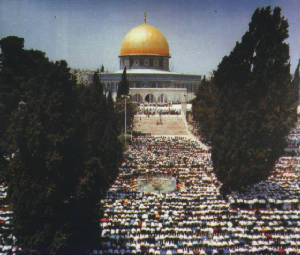 This site considered by many Moslems to be second only to Mecca in significance.
Click on the photo below to visit the 'National Geographic for Kids Classroom Magazine Online' game site. Select a game that makes exploring our solar system or the world around us fun!
THE SPHINX IN FRONT OF KHAFRE'S PYRAMID
Click on the photo above to visit National Geographic's Classroom Magazine for Kids.